Criteria no. 1 for a Patent is a documentation confirming that the food supplement strengthens the immune systems defence and that is safe to use. Only a Clinical Study performed at a university can make this documentation. These are the criteria for the International Patent Convention, which Norway, together with all other industrialized countries have signed and agreed. When the Norwegian Board of Patent issues a letter of Patent the documentation is official and guaranteed by the Norwegian State. Unless such a Clinical Study is available as a documentation an application for patent will never be considered.
The name of "Avant-Garden" and "The Virus trap" are registered trademarks in a number of countries worldwide.
Regarding the clinical study, 90 medical students participated in this performed at the University Clinic at Haukeland University Hospital in Bergen, Norway, divided into 3 groups of 30 students each. Group 1 got placebo, group 2 got 1 tablet of Avant-Garden and group 3 got 3 tablets of Avant-Garden for a period of 2 months.
Blood samples from 17 different immune parameters were controlled. The protective and strengthening effect on the students and to their immune defence system was confirmed, statistically named 'convincing or significant effect'. All participating students were healthy and not exposed to any type of inflicted infections but only their usual environment and the usual infection-risk of any environment.
DOPING ANALYSIS
Many athletes have asked us if they may use Avant-Garden to safeguard their body while training and to start in sports events with the highest possible confidence. Due to these questions, we have ordered an official doping analysis that clearly states that Avant-Garden is 100% free of all of the 20 illegal substances included in the International Doping Control's list, as shown here:
N.B. ! All batches from our production is scientifically analysed and tested for any trace of illegal doping substances.
In reality, it is impossible for an athlete alone to know if any food supplement is free of illegal doping substances or not. No one from any official organization can give any guarantee of this. It is the responsibility of the athletes themselves what they eat and drink. Athletes cannot ask for doping tests performed on their behalf through the official apparatus in Norway.
To help each and everyone in this vital matter, we have looked upon it as our duty to order and go publicly with an Official International Doping Analysis. By doing so, all athletes and others can read about the Doping Analysis and safely use Avant-Garden without any hesitation.We have used the Nordic laboratory cooperation company of `Analycen` with its main facility placed in Lidkjøping, Sweden, for our doping tests and will continue to do so with all batches of our production.
The production facility has the highest possible EU-certification for purity and hygiene and is located in Norway. There are absolutely no probabilities for any interference from foreign substances in the production of Avant-Garden and all declarations and certificates regarding this are present, in accordance with the EU directives.
Because of this, we can as a responsible producer document that everyone safely can use Avant-Garden, also top athletes. In addition, we would like to inform about the juridical background for a patented food supplement, which Avant-Garden is. The first criteria for Patented food supplement is a Clinical Study performed at a university hospital documenting that the product strengthens the immune systems defence and is totally safe to use. This is accordingly to the International Patent Convention. The Norwegian Board of Patent guarantees an approved Patent.
AVANT-GARDEN TAKES THE RESPONSIBILITY IN THE WORKING LIFE, IN THE ATHLETICS AS WELL AS IN THE PRIVATE LIFE.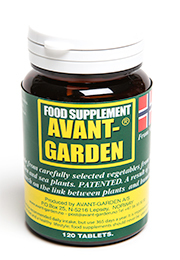 AVANT-GARDEN IS YOUR
PERSONAL BODYGUARD !