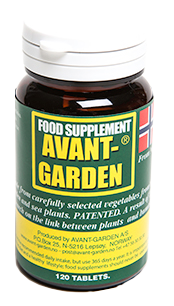 This is Avant-Gardens International Internet Shop.
We send to customers worldwide except for The USA, Canada and Australia.
We offer our Standard package containing 120 tablets in each box. Regular dosing is 5+5 tablets a day (According to the newest EU-regulations for food supplements).
The more boxes you order the lower price you pay for each single box.
Prices are given in Euro (EUR) and British pounds (GBP).
Post & packaging (p & p) is included in the prices. Your local VAT, customs fees, import taxes are not included.
WARNING: PEOPLE WITH ORGAN DONOR TRANSPLANTS MUST NOT USE AVANT-GARDEN.
THIS IS BECAUSE AVANT-GARDEN BUILDS UP THE IMMUNE SYSTEM AND IF PEOPLE SHOULD HAVE ANY ORGAN DONOR TRANSPLANTS THEN A STRONGER IMMUNE DEFENCE MAY CAUSE THE OPERATED DONOR ORGANS TO BE REJECTED BY THEIR BODY.
WE HAVE A COUNTLESS NUMBER OF POSITIVE FEEDBACKS CONFIRMING THAT AVANT-GARDEN CAN BE USED TOGETHER WITH MEDICINES BECAUSE THE PRODUCT STRENGTHENS THE IMMUNE DEFENCE SYSTEM.
---

By placing an order in our shop you accept our sales terms
Select currency:
PayPal shopping cart will open in new window